Medical Assistant Program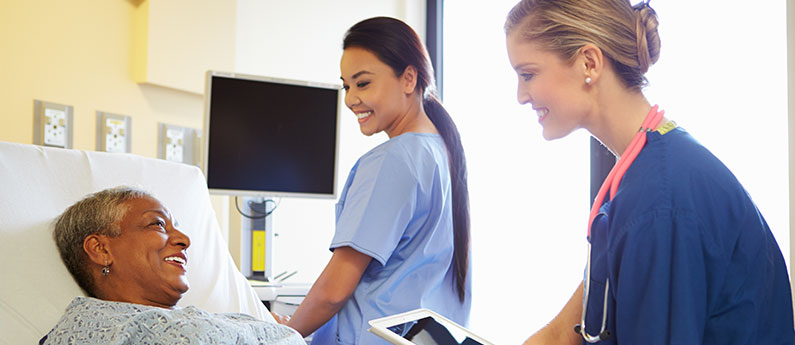 Program Objective
This program is designed to prepare students for an entry-level position as a Medical Assistant in a private physician's office or clinic. This program will prepare an individual to assist the physician during exams, interview and educate patients, measure and record vital signs and administer injections. Upon completion student is eligible for National Medical Assistant Certification Exam.
Overview
Students will receive comprehensive instruction in clinical medical assisting. The course combines theory and practical instruction, and includes an externship where students practice in the real world what they've learned in the classroom. Course competency will be measured by written and practical examinations. Practical material will be presented and graded in a competency-based fashion under the direction and supervision of a qualified instructor.
At the end of the course the student will be able to:
Identify parts of the human body
Describe the basic function of each body system
Utilize medical terminology in written and spoken communications
Define medical terminology found in medical records
Define medical conditions, diseases and disorders commonly treated in a doctor's office
Perform the procedures for rooming a patient
Obtain the vital signs of a patient
Perform basic wound care
Demonstrate proper positioning and draping for patient procedures
Locate information regarding medications
Demonstrate the administration of oral and injectable medication
Instruct patient in preventative health practices
Assist physician with examinations
Demonstrate minor specimen testing and recording of results
Demonstrate the collection of specimens
Demonstrate first aid for disorders of the muscular-skeletal system
Total Hours
Credit: 40
Clock: 840
Duration / Schedule
30 Weeks (Days)
Monday Thru Thursday – 8am to 3pm
42 Weeks (Evenings)
Monday Thru Thursday – 5pm to 9pm
Program Emphasis
This program is designed to provide, thorough didactic and clinical instruction, a basic systems overview of the role of the medical assistant in a clinical setting. Didactic lectures cover the theory, anatomy and terminology pertaining to each system. Clinical instruction provides hands-on training in the listed procedures verified through a skills check-off system.
Program Includes
Textbooks
Uniform (2 Sets)
EKG/ Phlebotomy Skills
Introduction to EMR/EHR
Introduction to Medical Insurance
Laboratory Procedures
Job placement assistance
One time certification exam fee
Program Description
The program focuses on a broad range of skills necessary for the medical office, which include admissions, vital signs and assessment, preparing patients for physical examinations and/or treatment, performing lab work, venipuncture, operating diagnostic equipment and performing EKGs.
Job Outlook
As per U.S. Department of Labor, employment of medical assistants is projected to grow 23 percent from 2014 to 2024, much faster than the average for all occupations. The growth of the aging baby-boom population will continue to increase demand for preventive medical services, which are often provided by physicians. As their practices expand, physicians will hire more assistants to perform routine administrative and clinical duties, allowing the physicians to see more patients.

For immediate inquiries call: 1-248-440-6020.