Surgical Technician Program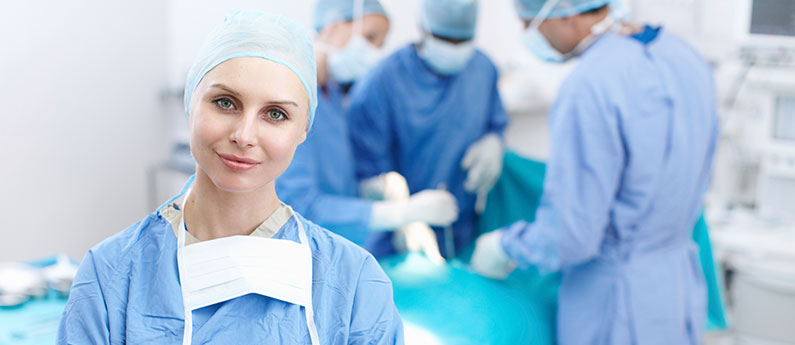 Program Objective
Surgical technologists maintain asepsis in the operating room, pass instruments and sterile items and equipment to the surgeon during a procedure, maintain the sterile field, and prepare instruments, supplies and equipment before and after an operation. The mission of the surgical technology program is to prepare graduates to work as surgical technologists in operating rooms with surgeons, anesthesiologists, registered nurses and other surgical team members and helps deliver high quality of patient care. After graduation, students are eligible to take National Certification examination. Certification through the National Center for Competency Testing allows the use of the title "Tech in Surgery – Certified (NCCT)."
According to the U.S. Bureau of Labor Statistics, Employment of surgical technologists is projected to grow 15 percent from 2014 to 2024, much faster than the average for all occupations. Several factors will lead to demand for surgical technologists. Advances in medical technology have made surgery safer, and more operations are being done to treat a variety of illnesses and injuries. In addition, the number of individuals who have access to health insurance is expected to continue to increase because of federal health insurance reform, which should in turn lead to increased demand for surgical services.
The aging of the large baby-boom generation also is expected to increase the need for surgical technologists, because older people usually require more operations. Moreover, as these individuals age, they may be more willing than those in previous generations to seek medical treatment to improve their quality of life. For example, an individual may decide to have a knee replacement operation in order to maintain an active lifestyle.
The median annual wage for surgical technologists was $44,330 in May 2015. The median wage is the wage at which half the workers in an occupation earned more than that amount and half earned less. The lowest 10 percent earned less than $31,410, and the highest 10 percent earned more than $63,410.
Overview
Surgical Technicians are also called Surgical Technologists or Operating Room Technicians. Surgical Technicians assist in preparing operating rooms for surgery. Surgical Technicians are responsible for having surgical instruments, sterile bandages and linens, needed fluids, and other equipment ready for the operation. Surgical Technicians also assist doctors by handing them needed instruments during surgery and for counting sponges and needles before and after the operation. Surgical Technicians deliver specimens to hospital laboratories for analysis, and after operations they take patients to the recovery room.Surgical Technology program involves classroom instruction and practical experience in medical terminology, ethics, medical aspects of surgical care, asepsis (sterile techniques), anatomy, and anesthesia.
Surgical technologists need manual dexterity because they must handle instruments quickly. They also must be conscientious, orderly, and emotionally stable in order to handle the demands of surgeons. Technologists must also be able to respond quickly and have knowledge of various operating room procedures. CPR skills and certificate is provided upon the completion of the program.
Total Hours
Credit: 51
Clock: 1284
Duration / Schedule
46 Weeks Days
Monday Thru Thursday – 8am to 3pm
65 Weeks (Evenings)
Monday Thru Thursday – 5pm to 9pm
Program Emphasis
This program is designed to provide, thorough didactic and clinical instructions, a basic systems overview of the role of the Surgical Technician in a clinical setting. Didactic lectures cover the theory, anatomy and terminology pertaining to each system. Clinical instruction provides hands-on training in the listed procedures verified through a skills check-off system.
Program Includes
Text Books
Clinical Experience
Laboratory Procedures
CPR Certification
Job Placement Assistance
National Certification Exam fee (one-time only)
Upon completion of the program, the student will be able to
Demonstrate knowledge and practice of basic patient care concepts.
Demonstrate the application of the principles of asepsis in a knowledgeable manner that provides for optimal patient care in the operating room.
Demonstrate basic surgical case preparation skills in the sterile processing role (STSP) and transportation / communication role (STTC).
Demonstrate the ability to perform the role of first scrub (STSR) and second scrub (STSR2) on basic surgical cases.
Demonstrate responsible behavior as a health care professional
For immediate inquiries call: 1-248-440-6020.